" Dear FuturICT Supporters,
It is time for another newsletter to keep you updated with all our recent activities.
The FuturICT vision is still alive and our community is thriving as can be seen from our social media metrics that we follow. A big THANK YOU to all who participate in our activities and share our posts. Our webpage ranking shows that we are still ahead of the two selected flagships, please keep visiting our webpage! "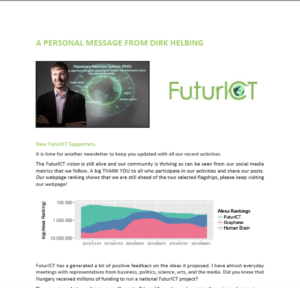 [pdf-embedder url="https://sisr.swissinformatics.org/wp-content/uploads/sites/28/2020/05/FuturICT-Newsletter-Nov-2013-1.pdf" title="FuturICT Newsletter Nov 2013-1"]